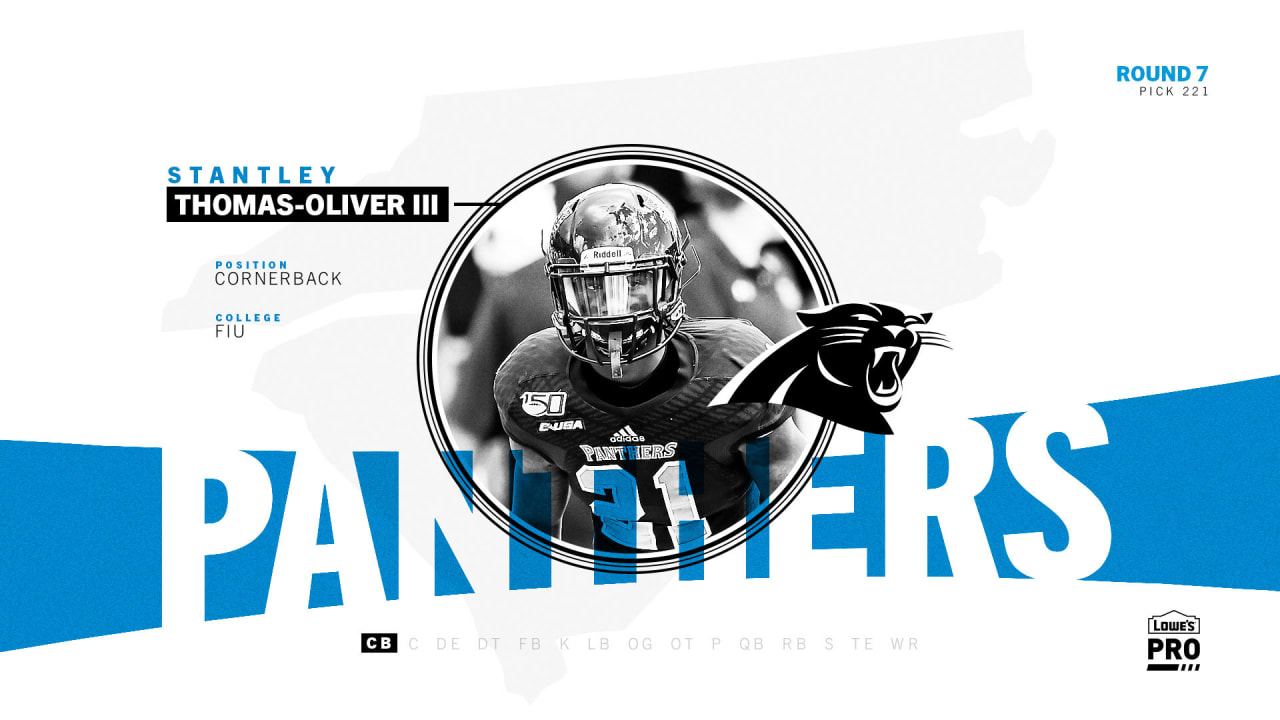 The Panthers have selected Stantley Thomas-Oliver III out of Florida International with the 221st pick in the seventh round of the 2020 NFL Draft.
After starting his college career at wide receiver, Thomas-Oliver switched to cornerback before his junior year and made 24 starts over his last two seasons. He was a 2018 All-Conference USA Honorable Mention in his first year at corner. In 2019, he was a second-team All-Conference USA honoree after recording eight passes defensed, an interception, 2.0 sacks, and 4.0 tackles for loss.
Thomas-Oliver said he first became a cornerback after jokingly covering his wide receiver teammates at practice, not realizing a coach was watching him. But then he made the switch, and called the process pretty smooth.
"It's just about buying into it, trying to learn as much as you can," Thomas-Oliver said Saturday. "And just as the coaches, as the teammates bring you along, just trusting them that they're leading you the right way adjust keep pushing."
Thomas-Oliver said that once he made the switch and started making plays in practice, his teammates would joke with him — never truly giving him credit for how well he played defense.
"Whenever I made a play or caught a pick, they'd be like, 'Oh, you know all the plays! You're cheating!'" Thomas-Oliver said. "They would never pretty much give me credit if I did something right, it was always 'You remember the plays that we used to run!'"
But now that he's been drafted, Thomas-Oliver's goal is to be on the active roster when the regular season begins. Making the team as a seventh-round pick can be an uphill climb, but Thomas-Oliver understands the path to get there.
"I know the first thing I would like to do is impact playing special teams," Thomas-Oliver said. "Special teams is one of the most important parts of the game. One good play, one bad play on special teams can determine a lot of the game. So I know that's a real critical part. So that's what I do it for."